28 janvier 2009
3
28
/

01
/

janvier
/

2009
15:40

Hi, my name is Bernadette Belle, but the only 2 people that call me that are my mom & dad. My siblings have always called me Bernie since i was a baby. I grew up most of my life in San diego. I am a product of My burlesque dancing mom from Oklahoma & Sailor father who joined the U.S. Navy from the Philippine Islands. My father traveled all over the world & one night he was at a night club in Hollywood & saw my mom dancing...... they fell in love. And couple years went by & i was born. Even as young as i can remember i was fascinated with the 1930's,40's & 50's glamour. As a child every Saturday I would sit & watch the film festival for hours. I LOVED all the dancing & glamour of the Zigegfeld girls. I daydreamed of being one & I loved seeing Ginger Rogers glide across the dance floor with Fred Astaire. At 5 years old I started my tap dance lessons. My mother was my biggest influence. She was very beautiful & glamorous! I would stand by her side at watch her transform herself from beautiful mom to glamourous show girl. She even used fake eyelashes. I still implement all her techniques when doing my own make up today!

My very first photo shoot was when i was 11. It was lucky for me my mothers friend was a photographer. Even at 11 i was already developing my style. It was clear where my influences were coming from. My mom would take me to thrift stores & i would by vintage dresses & hats to wear in these shoots. I was always incorporating vintage fashion. Not just because it was what i liked bit it was also all we could afford. I think even if we could afford more i would have stuck to vintage as it was made for my body type. Soon i was entering my first beauty pageants. By the time i was 18 i was Miss Teen San Diego County. I even made it to the top 15 finalist in California!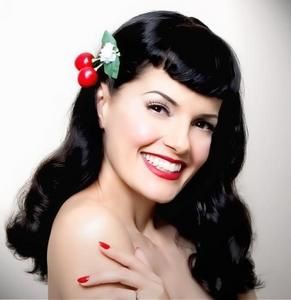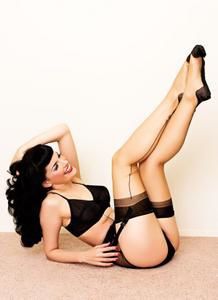 After high school i was still seeking my shot at being a model. I moved to Hollywood & would go to open model calls. Always being told i was too petite " if only you were 5 inches taller" or they would select a blonde...
so i decided to go to beauty college.If i could not be in front of the camera i would be behind it! I just lOVED being around the glamour. It was on a lunch break from beauty college where i caught my first glimpse of Bettie Page. Not knowing what a profound influence she would have on my career later in life.I graduated from Yamano Beauty College & started working as a assistant hair dresser at Doyal Wilson on Melrose. I loved doing hair but being an assistant did not pay enough to survive. My friend worked for MAC Cosmetics & told me about a position that had opened up. I applied & got the job! I was thrilled to learn all the amazing skills i was able to implement to all the techniques i had already learned from my mother. I worked there for just under 2 years & in & out of cosmetics for the next several years.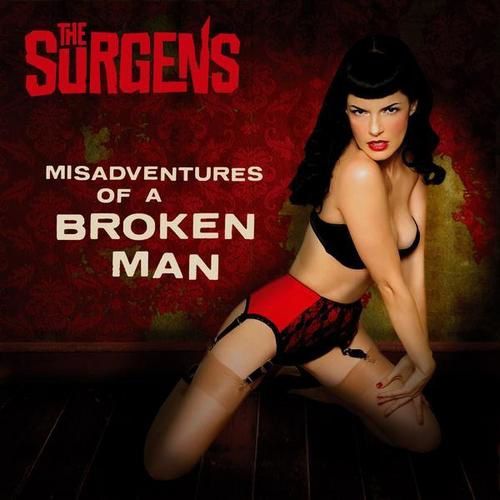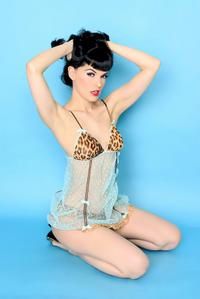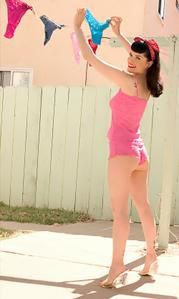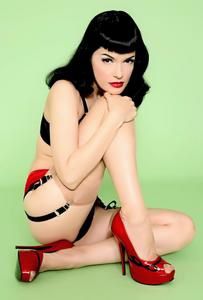 Finally I decided to free lance & THAT is when everything started! I worked for several photographers. I found i was not just doing hair, make up & wardrobe but i always asked to show the models to pose. Most photographers still do not credit me for my work i had done. But i worked with a lot & on some quite famous people. The next thing i know was being invited to be the actual model! I was actually quite embarrassed! hehehe..I remember on one shoot for Space Cowgirls, i had asked the make up artist to not tell anyone she saw me there! I just did not think being a pin up model was cool. But it was so fun i could not stop! soon i decided to enter the photo in a pin up contest to win free tickets to a weekeneder. I of course did not win, BUT was flooded with modeling offers! I was always being told " i can not believe we found a model who looks like Bettie Page" i thought everyone was crazy! It has just snowballed from there. I entered a few more pin up contest & realized they were silly. It is great to start & see how people react to your images but i found just working hard every day making images was where there real gratification has come from. I found keep focus on the art is what is important. This ment not playing the photographer model circuit because with that circuit came drama, disappointment & hurt. I almost gave up. Levi would not let me. he said he would get a camera & shoot my photos. so he did. Thank GOD! Nothing i have ever done has been forced. i did not network to get where i am at. It is all from hard work & really more then anything letting nature take it's course.:)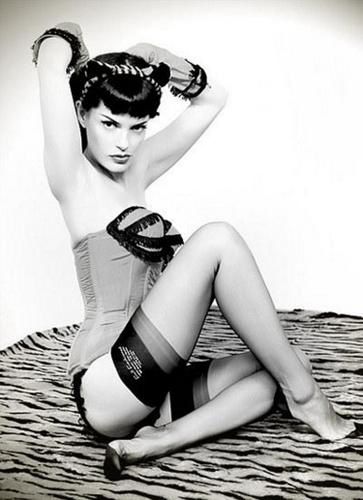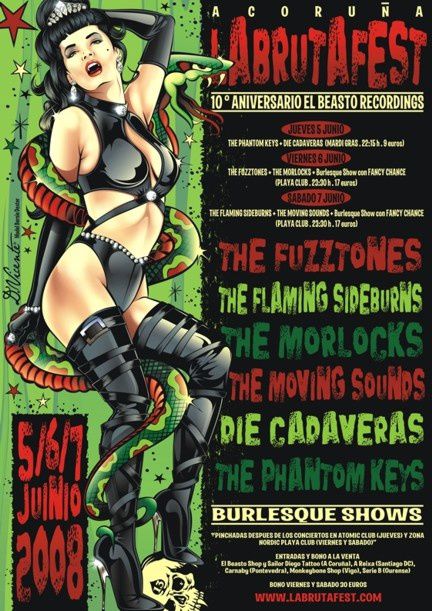 texte by Bernie Dexter
Photos by Levi Dexter (by the way HAPPY BIRTHDAY)
Many thanks to Bernie !!!

www.berniedexter.com
www.myspace.com/bernie_dexter
Published by D.Vicente
-

dans Pin-ups